While back to school looks quite different this year for many Canadian families, what hasn't changed is the age old question of what to feed the kids for their school lunches or after school snack.  Here are five easy honey recipes that we think you will love!
Fruit roll ups are a favourite of kids.  Who doesn't love sticky fruit leather bursting with flavour and sweetness? Have you tried making your own? It's surprisingly easy and you will like knowing exactly what's in them!                                          
Add fruit and BeeMaid Honey to your blender. Blend until well combined and smooth.
Bake at 200◦ for 2-4 hours until dried out and fruit leather consistency.Let cool and then cut into strips, including the parchment paper. Roll each one up and store in an airtight container or wrap individually in plastic wrap for lunch boxes!
2.Fruit Skewers with Honey Yogurt
It's no secret that kids love food to be fun – and these skewers are a great way to get kids to eat more fruit! Add this simple and tasty honey yogurt sauce and you have a perfect accompaniment to lunch or a fast and easy after school snack.
1 cup yogurt plain, low-fat, or Greek
¼ cup BeeMaid Honey
½ tsp vanilla extract
pinch of cinnamon
Combine all the ingredients in a medium bowl and whisk until fully combined. 
3.Double Chocolate Zucchini Muffins
Zucchini is the perfect vegetable to sneak into your baking. Plus, since these are sweetened with BeeMaid Honey, they stay fresh for days.  Shh – don't tell your kids they have zucchini in them… they won't know it's there!
1 cup whole wheat flour
½ cup natural cocoa powder
½ tsp kosher salt
1 tsp baking soda
1 tsp baking powder
½ cup virgin coconut oil
½ cup BeeMaid Honey
2 eggs
1 tsp vanilla
1 ½ cups coarsely grated zucchini (about 1 medium)
¾ cup semisweet chocolate chips
Preheat the oven to 350°F.  Coat a 12-cup muffin pan with nonstick baking spray or use muffin liners.  
Coarsely grate the zucchini with a grater and set on paper towels to drain.
In a medium bowl, add the flour, salt, baking powder, baking soda, cocoa and chocolate chips. Mix together.
In another medium bowl, thoroughly mix the BeeMaid Honey, coconut oil (melted to a liquid), vanilla, and eggs together.  Add the zucchini and continue mixing to evenly distributed.
Add the dry mixture to the wet mixture and stir until everything is wet, but be careful not to overmix.
Distribute the batter to the muffin tins and bake for about 15 minutes or until a toothpick inserted into the center of the muffin comes out clean.
4.No Bake Honey Energy Bars
Skip the packaged granola bars and make your own!  These are perfect to send to school as they are nut free.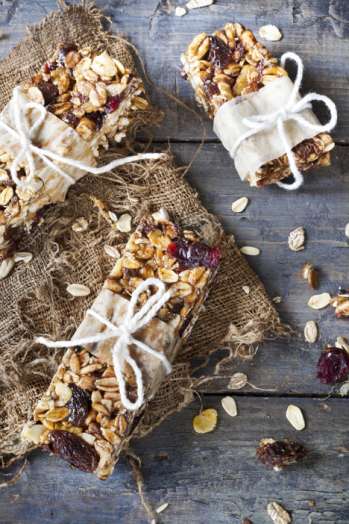 1 cup rolled oats
⅓ cup coarsely chopped dark chocolate or chips
¼ cup roasted pumpkin seeds
¼ cup dried cranberries
¼ cup BeeMaid Honey
2 tbsp unsweetened coconut flakes
1 tsp cinnamon
Line a small rimmed baking sheet with parchment paper.
In a bowl, combine oats, chocolate, pumpkin seeds, cranberries, BeeMaid Honey, coconut and cinnamon; spread over bottom of prepared pan.
Using rolling pin, roll out mixture to 1 inch thickness.  Press firmly as you want these as compact as possible so they stay together.
Refrigerate until the mixture has hardened.  Cut into bars.
Tip: Make a double batch and freeze half! 
5. Ricotta Honey Spread
Here's a delicious spread that would be perfect for a quick snack before sports practice. Add sliced strawberries on top for an extra nutritious hit. 
2 to 3 tbsp BeeMaid Honey, plus more for drizzling
1 cup ricotta cheese
1 tsp lemon zest
Fresh strawberries, sliced
Stir together ricotta, honey, and zest.
Serve with on bread or toast with fresh sliced strawberries and a drizzle of BeeMaid Honey.